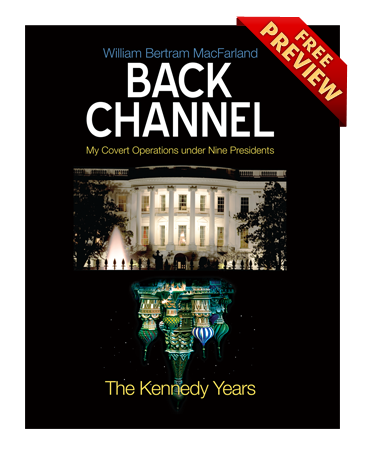 Download First Chapter
EXCLUSIVE!
Back Channel II - The Vietnam Betrayal,
The first 2 unpublished, chapters...
Download Here!
""All governments are amoral." Back Channel invites the reader to see the inner workings of the executive branch in a time of war, of civil unrest and of abrupt transition after a presidential assassination. The intricate web of political personalities and secret agendas comes alive through Bertie Mac's narrative."
- Anonymous, Virginia
"Look out Jack Ryan and Jason Bourne; Bertie Mac is finally telling his story. Back Channel is an amazing tale; I cannot wait for the next edition."
- Anonymous, Washington, D.C.
"I have known Bertie Mac for a quarter century - as a business partner and a friend. Only recently did I begin to know his true identity. Over the years I began to piece together fragments of "Bertie's story". I encouraged him to write his Memoirs. You are about to read the Memoirs of "a Patriot, a Soldier, a Spy and an Assassin." For fifty years Bertie Mac was at the center of our country's foreign and domestic historical events as - an observer - a fly on the wall - a go between - a confidant – reporting directly to no one but the President of the United States. History unfolds at the highest level of the Executive branch of our government throughout Back Channel, the story of Bertie Mac. Hang on - enjoy! Truth is much more exciting than fiction."
- Anonymous, New England
My view of world events is forever changed since reading Back Channel. No matter how informed we believe we are; there is so much more. Back Channel illuminates the absolute importance of having trust-worthy, even-tempered, well-educated, worldly wise, compassionate people in positions of power and influence. Thank you, Bertie, for all you have done!"
- Anonymous, Pennsylvania